Guide to Ranch-Themed Sports and Recreational Activities
Summer's here, which means it's time for long, sunny days at the ranch with friends and family! At Clark Company, we believe Ranch Life isn't just about work, but also fun and adventure. From riding and roping to cattle drives and rodeos, this guide covers all the exciting ways the cowboy spirit is alive and well!
Whether you're a seasoned rancher or a city slicker looking to embrace your inner vaquero, this guide has something for everyone! Of course, it's impossible to capture everything you can do on a ranch, so let us know if we missed anything that just has to be included at info@clarkcompany.com.
Cattle Drives
Experience the spirit of the Wild West by participating in a cattle drive. Join a team of cowboys and cowgirls as you gather and move cattle across vast ranch lands. This hands-on activity offers a chance to immerse yourself in the daily life of a cowboy, honing your herding skills and learning about the rich history of ranching.
Trail Rides and Hiking
For those seeking a slower-paced activity, trail rides and hikes allow you to explore the natural beauty of the ranch on foot or hoof. Take in breathtaking vistas, observe wildlife, and learn about the diverse ecosystem of the ranch. Guided hikes provide an opportunity to connect with nature while enjoying the serenity and tranquility of the surroundings.
Target Shooting and Archery
Target shooting and archery are two popular sports that require skill, focus, and precision. Both disciplines involve aiming at a specific target and hitting it with accuracy. Whether you are an experienced competitor or a beginner looking to try out a new hobby, target shooting and archery offer a challenging and rewarding experience.
Fishing and Hunting
There's nothing like trekking through the woods on a hunt or fishing in a pristine lake or pond. Fishing and hunting on a ranch allow you to relax and unwind while surrounded by the beauty of the outdoors.
Campfire Cookouts
After a day filled with activities, gather around a campfire and indulge in a traditional cowboy cookout. Share stories, enjoy delicious food, and immerse yourself in the warmth and camaraderie of the Ranch Life. They're the perfect ending to a day of ranch-themed adventures.
Rodeos
When it comes to ranch-themed sports and recreational activities, few can match the excitement and adrenaline rush of a rodeo. Rodeos originated in the American West and have becomehttps://www.prorodeohalloffame.com/inductees/steer-wrestling/john-w-jones-jr/ an iconic part of cowboy culture, showcasing the skills and talents of both cowboys and cowgirls as they compete in a variety of events.
California's deep-rooted rodeo traditions are evident with the induction of countless Californians into the various prestigious Hall of Fames.
The Hall of Great Westerners at the National Cowboy Museum includes many friends and well-known members of the ag community, including George Hearst, John Lacey, Cotton Rosser, Ronald Reagan and many more. National Rodeo Hall of Fame honorees from the Central Valley, such as Clay Carr, and the Santa Ynez Valley, like Leo Camarillo, have also made significant contributions to this esteemed institution.
Another prestigious Hall of Fame is the ProRodeo Hall of Fame, in Colorado Springs, CO. One of this year's inductees, Luke Branqhino is from Los Alamos. A father-son duo from Morro Bay, John W. Jones, Sr. and John W. Jones, Jr. are past inductees.
Here on the Central Coast, locals look forward to the Country Rodeo Finals held every year at the California Mid-State Fair. Don't miss them Saturday, July 29 at 7 p.m. in the Main Grandstand Arena!
BULL & BRONC RIDING
One of the most popular events in rodeo is bull riding. This action-packed event requires riders to stay on a bucking bull for a minimum of 8 seconds, holding on with only one hand. Bronc riding has the same time requirement but using a specialized saddle. Both events require a combination of strength, balance, and finesse, as riders must adapt to the animal's movements to maintain their position.
BARREL RACING
Another crowd favorite is barrel racing. In this event, horse and rider work together to navigate around barrels placed in the arena. Speed, agility, and precision are key as participants race against the clock. The intense coordination between the rider and their horse is a sight to behold and leaves spectators on the edge of their seats!
ROPING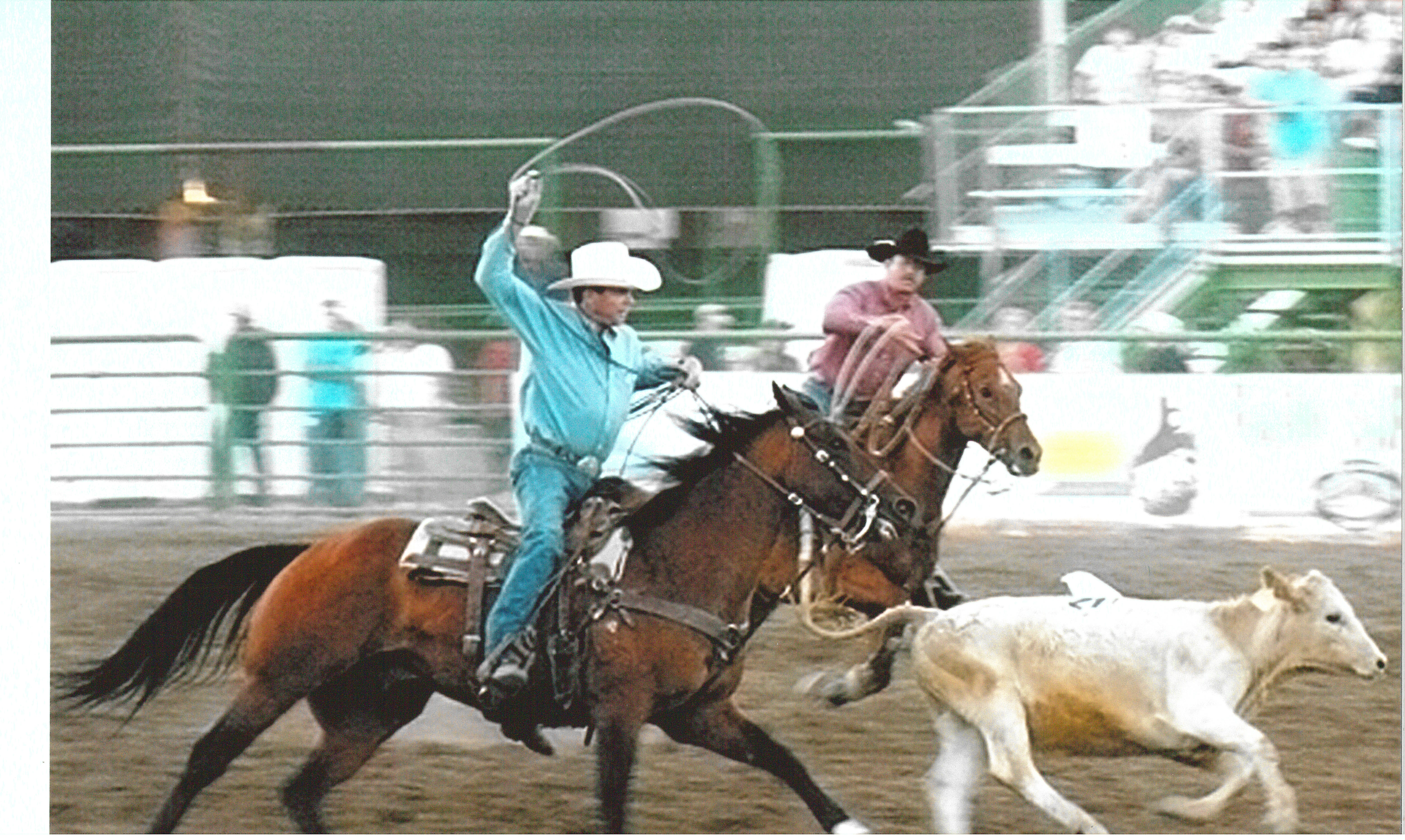 Rodeos also feature team and individual roping events. Clark Company's President, Pete Clark, participated in Team Roping events for several decades. In team roping, two skilled riders, a header and a heeler, work together to catch a steer by both ends. The header ropes the steer's horns or neck, while the heeler ropes the steer's hind legs. Though simple in concept, this sport demands both team members and their horses work together to execute their part with perfect timing. Calf roping tests the speed and accuracy of an individual rider. Both are fast-paced events that showcase the strength and coordination of horse and rider.
These are just a few examples of the thrilling events you can expect to see at a rodeo. Each event showcases the unique skills and talents of the participants, providing an unforgettable experience for spectators.
In addition to the Country Rodeo Finals, the Mid-State Fair has a full lineup of exciting events for all ages, as well as lots of food, live music, games, and shopping. And don't miss the annual Cattlemen & Farmers Day on Thursday, July 20!
One of the most special days of the Fair, Cattlemen & Farmers Day pays tribute to our local cattlemen, cattlewomen, and agriculturalists. Join our president, Pete Clark in celebrating the accomplishments of the Industrial Arts program, enjoy a fabulous barbecue steak dinner with a glass of wine or beer, and find out who wins the coveted Cattleman of the Year, Cattlewoman of the Year, and Agriculturalist of the Year!
Click this link to purchase tickets and view the full schedule of events!