California Drought Series: Episode 1
The Impact of California's Drought Crisis can be felt near and far.
It's no secret that California's ongoing drought is a problem of crisis proportions. With repercussions felt from the comfort of our homes, to our beautiful ranches and farmlands here on the Central Coast, to grocery stores nation-wide, the circumstances our Golden State faces are dire.
In this blog series, we will be examining the drought, how it affects California and the U.S. as a whole, who's most at risk, and how we can each do our part to help
The Situation at Hand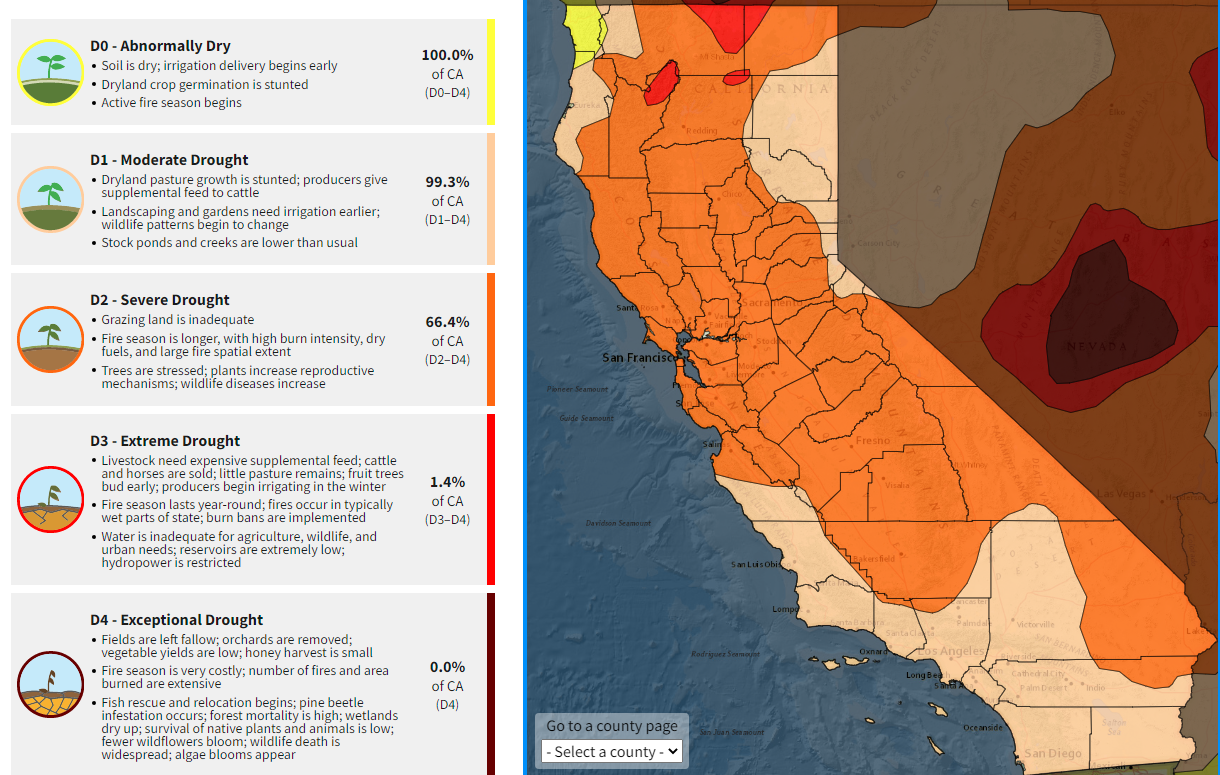 According to the National Integrated Drought Information System, 99% of California is currently experiencing a moderate drought. Of that, over 66% of our Golden State is in severe drought.
What does that mean? Here are the facts:
Severe Drought

Grazing land is inadequate
Fire season is longer with high burn intensity, dry fuels, and large fire spatial extent
Trees are stressed
Plants increase reproductive mechanisms
Wildlife diseases increase

Moderate Drought

Dryland pasture growth is stunted; producers give supplemental feed to cattle
Landscaping and gardens need irrigation earlier
Wildlife patterns begin to change
Stock ponds and creeks are lower than usual
According to California's Drought Update, it would take 140% of the state's normal yearly rainfall to recover from drought. All of California's 58 counties are now under drought emergency proclamation and, as of Jan. 18 of this year, our reservoir storage is below 2019 levels.
You can find a full breakdown of California's drought conditions by county here.
With over 37.3 million Californians affected, it's important to think about the many ways this drought is affecting our livelihood and our local and state economies.
A History of Drought & How California is Responding Now
Flashback to 2015: California was in the thick of the driest four years in the state's history and the signs of drought were clearly visible. Withered crops and gardens surrounded our communities, reservoirs shrank, ski runs and mountain resorts shut down, millions of trees died, and countless acres of brown, dry grass were an ever-present threat of wildfire.
State officials mandated a 25% cut in water used by urban residents. People drove dirt encrusted cars, let yellow mellow, and painted their dying grass green to preserve some sense of normalcy.
Fast forward to today and California, though not in as dire of a situation as a few years ago, is still struggling to weather the increasingly inevitable dry spells we face.
According to the State's recent California Drought Update, Californians are now being asked to reduce their water use by 15% more than 2020 levels to help protect water reserves and maintain critical flows for fish and wildlife wherever possible. A ban on wasteful water practices also hit homes statewide and will remain in effect for up to one year. Wasteful water practices include:
Applying water to outdoor landscapes resulting in more than incidental runoff
Washing of vehicles without an automatic shutoff nozzle on the hose
Washing impervious areas
Street cleaning or construction site prep
The use of decorative fountains, lakes, or ponds
Irrigating turf within 48 hours of a quarter inch of rainfall
Irrigating turf on public medians
These wasteful water practices can easily be reported by residents via an online tool developed by the State Water Board.
What Farmers & Ranchers Face
While residents statewide are feeling the effects of California's prolonged drought, farmers and ranchers are among the most affected and vulnerable groups.
Why? Water shortages.
In an effort to slow California's quickly diminishing water supply, both State and Federal agencies have cut water deliveries to farmers and ranchers drastically —sometimes to zero.
According to Cal Matters, "Farmers are reacting to shortages in three often intertwined ways— suspending cultivation of some fields or ripping up orchards for lack of water, drilling new wells to tap into diminishing aquifers, and buying water from those who have it."
"All three have major economic impacts. They are driving some farmers and ranchers, particularly small family operations, out of business altogether, accelerating the shift to large-scale agribusiness corporations with the financial resources to cope, changing the kinds of crops that can be profitably grown, and supercharging the semi-secretive market for buying and selling water."
Not only are farmers and ranchers losing their land and being forced to sell their cattle, but—without land or livestock to work—countless farm, ranch and ag workers are losing their jobs.
With California growing over one third of the country's vegetables and two thirds of the country's fruits and nuts, it's needless to say that our farmers are facing a struggle that has massive national economic consequences (a topic that we'll explore further later in this series).
What We Can Do
There are many facets to drought management and preparedness, and some of them start right at home!
Here are a few quick ways we can reduce our water consumption:
Indoor Water Conservation Tips
Bathroom

Avoid flushing the toilet unnecessarily. Dispose of tissues, insects and other similar waste in the trash rather than the toilet.
Take short showers instead of baths. Turn on the water only to get wet and lather and then again to rinse off.
Avoid letting the water run while brushing your teeth, washing your face or shaving.

Laundry

Operate clothes washers only when they are fully loaded or set the water level for the size of your load.
Kitchen
Operate automatic dishwashers only when they are fully loaded. Use the "light wash" feature to use less water.
Hand wash dishes by filling two containers—one with soapy water and the other with rinse water containing a small amount of chlorine bleach
Clean vegetables in a pan filled with water rather than running water from the tap.
Avoid wasting water waiting for it to get hot. Capture it for other uses such as plant watering or heat it on the stove or in a microwave.
Don't rinse dishes before placing them in the dishwasher, just remove large particles of food.
Avoid using running water to thaw meat or other frozen foods. Defrost food overnight in the refrigerator or use the defrost setting on your microwave.
Outdoor Water Conservation Tips
Lawn Care

A heavy rain eliminates the need for watering for up to two weeks. Most of the year, lawns only need one inch of water per week.
Capture rainwater and/or greywater for irrigation purposes like watering your plants and lawn.
Check the soil moisture levels with a soil probe, spade or large screwdriver. You don't need to water if the soil is still moist. If your grass springs back when you step on it, it doesn't need water yet.
If your lawn does require watering, do so early in the morning or later in the evening, when temperatures are cooler.
Water in several short sessions rather than one long one, in order for your lawn to better absorb moisture and avoid runoff.
Use a broom or blower instead of a hose to clean leaves and other debris from your driveway or sidewalk.
Avoid leaving sprinklers or hoses unattended. A garden hose can pour out 600 gallons or more in only a few hours.
In extreme drought, allow lawns to die in favor of preserving trees and large shrubs.

Car Washing

Use a commercial car wash that recycles water.
If you wash your own car, use a shut-off nozzle that can be adjusted down to a fine spray on your hose.
The key takeaway: make water conservation part of your everyday life!
By limiting. water use, more water is available in the aquifer for agricultural use. We can also support local farmers and ranchers by buying meat, fruits and vegetables from a local Farmer's Market.
Closing Thoughts
One of the hardest elements of drought is that it feels like no one person can do anything about it, and yet it's effects are far reaching. While it's true, one person alone will not solve this problem, many people uniting together will make an impact.
One person can't do everything, but every person can do something.
Sources: https://www.drought.gov/ ; https://calmatters.org/ ; https://www.ready.gov/drought